VESPA ROD MODEL (C-204)
This is one of the first years of Vespa production. These early Vespas are known as rod models because they use a solid rod linkage from the handlebar to the motor to operate the gear change mechanism. The system operated well, but as you might imagine, was somewhat complicated. There are many linkage points, as well as a gear system in the handlebar. After 1950, Piaggio switched to a cable operated system, which could be hidden inside the frame and was much less complicated to manufacture and adjust.
These early Vespas are extremely rare in the US (and even rare in Europe too!), as Piaggio would not begin sales here for several more years. These have some other interesting design features, most notably the ridge on the body frame below the seat that really emphasizes the curve of the body. The cut-away motor cowling is also very attractive and typical of the early scooters. The early Vespas did not yet have shocks on the front fork. There are so many interesting details on these very early scooters. There are very few Vespas this old remaining anywhere. This one is in superb condition.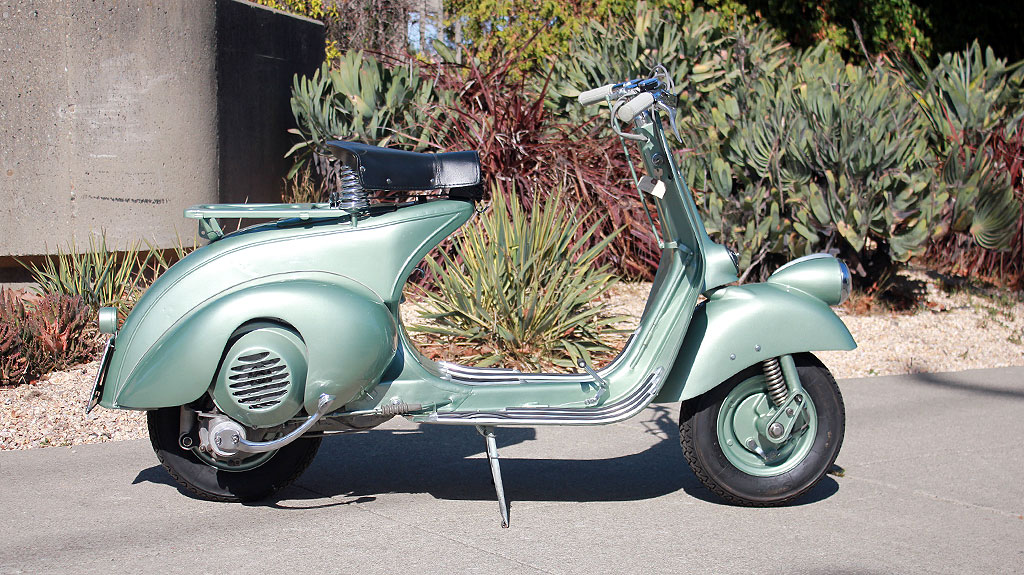 Price (before tax): $ 18,500
Make: Vespa
Year: 1948
Displacement: 125cc
Inventory number: C-204
Contact us now to learn more about this product.